Starpath Free ASCAT email Service
If you have Internet connections you do not need this email service. You can obtain these data direct from their sources at Royal Netherlands Meteorological Institute (KNMI) or Ocean Surface Winds Team (OSWT). They also offer data from India's OceanSat-2 Instrument.



Available online

Available by email

KNMI

KNMI




OSWT

25-km ASCAT

OSWT



* This 12.5-km coastal data is enhanced for more detail near shore than is usual in satellite winds.
To receive the latest 25-km OSWT ASCAT winds graphics by email (ascending and descending passes) closest to a given location, send a blank email to
this service is no longer available... too much spam, too few users also you can now get
ASCAT (and RapidSCAT) graphic data from saildocs
or get grib ASCAT from Ocens
Rules: latitude first, decimal degrees, N or S label for latitude, E or W for longitude, plain text, no html, no signature, no subject, no other content in the mail. The positions need not be precise as the files cover a large region, i.e. 25N,159W would do in this example. Leave the body of the message blank.
We will return to your email address two graphic images (25-km data from OSWT) as attachments that are about 20k to 40k each that will present the latest ASCAT data, color coded. Samples are given below.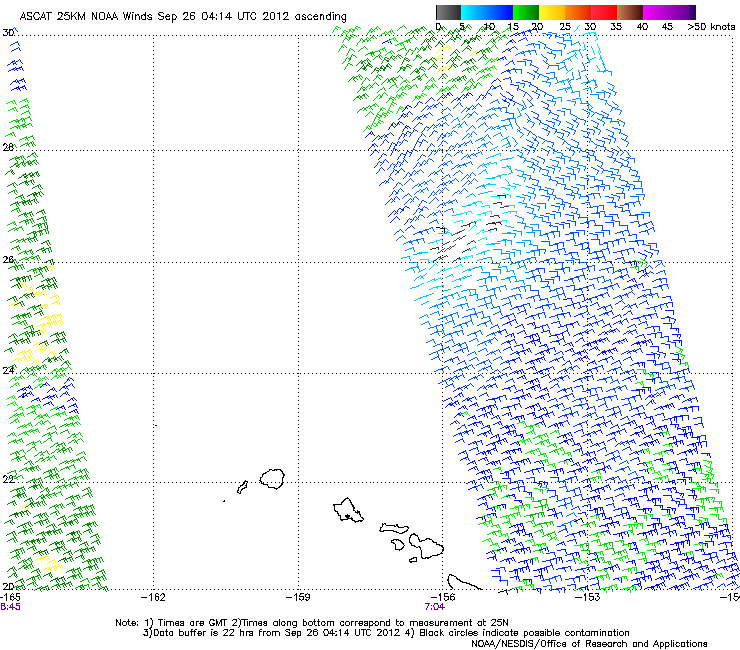 Ascending pass above; descending pass below. (Satellite tracks curve west as the earth rotates to the east below the polar orbit.)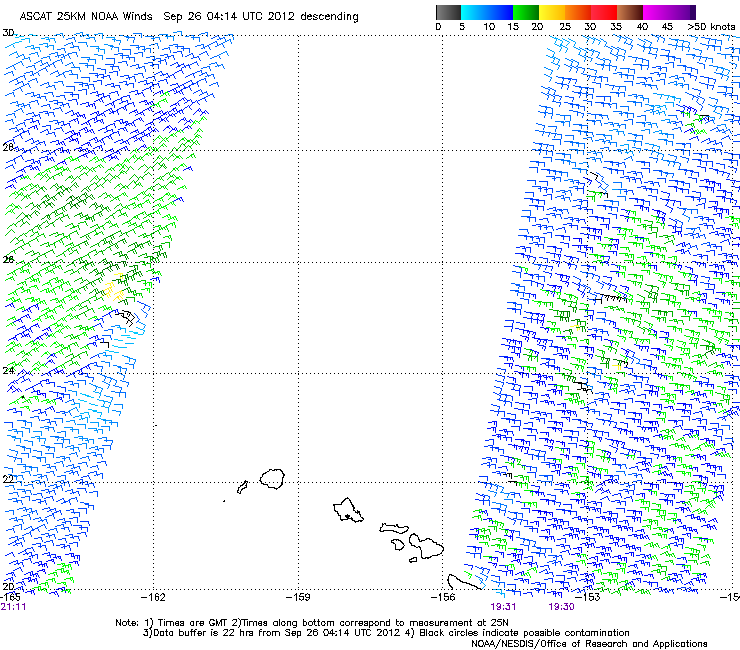 The valid universal times (UTC, same as GMT) of these maps are listed in small purple numbers at the bottom of the figures. These samples are from a set of passes that span the time period T1 to T2, where T2 = 0414 Sept. 26, 2012, and T1 is 22 hr earlier, which would be T1 = 0614 Sept. 25, 2012. The pass times for these samples (0704, 0845 and 1931, 2111) would therefore all be for Sept. 25.
The 22-hr data sets are updated every hour, so the 2111 pass is the most recent, being (0414 Sept. 26 - 2111 Sept. 25) about 7h 03m old.
See Modern Marine Weather by David Burch for more details on the use and interpretation of this data. See also our Navigation Blog article for more discussion of satellite pass time predictions.
* * * Please be aware of the file sizes when downloading the wind maps by satellite phone.
This free service is brought to you by Starpath Online School of Navigation. Please check out our products and services, including a similar free email service we offer for email delivery of near-live ship reports in your vicinity (www.starpath.com/shipreports).
* * * Please note that all ASCAT services from the original providers that we depend upon for this service have clear warnings that their programs are not guaranteed to be active at all times.
* * * You can post comments and questions on this service at our Navigation Blog.
LATEST NEWS...
Standby for news about RapidSCAT the new scatterometer on the International Space Station (ISS). It now is collecting data, see JPL report on first data, and see also this excellent video on the background of the project by Ernesto Rodriguez at JPL.