Roald Amundsen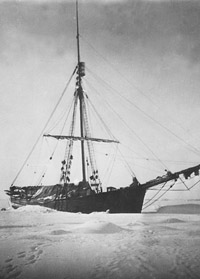 Amundsen's ship, Gjoa
Starpath Courses
• Radar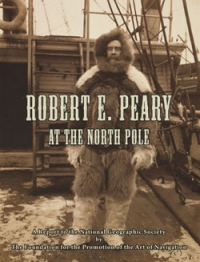 Starpath Publications book on Polar explaoration
On August 22, 2011 the Russian ice breaker Kapitan Khlebnikov will depart Greenland on a historic voyage to the Russian port of Anadyr, on the Bering Strait, by way of the Northwest Passage through the Arctic waters of Canada and the US. Besides the once in a life time voyage of some 4,500 miles in 23 days, with all of the unique scenery along this historic waterway, participants may also choose to take part in a unique marine navigation training program designed by Starpath specifically for this voyage.
The training program will begin with home study and online preparation before departure, followed up with onboard lectures, private tutoring, and hands on navigation, weather analysis, and communications practice throughout the 20 days underway, with follow-up training provided as needed. Certification in several areas of navigation can be accomplished in this program for those who choose it.
This program is unique in the Starpath roster as it is interdisciplinary, blending ocean, coastal, and inland navigation with the weather routing and communications. We will cover the state of the art in computer-based electronic navigation as well as the traditional skills of sextants and their forerunners that were used by the remarkably daring navigators attempting this elusive passage since the time of Columbus.
The passage was first achieved in a single season by Norwegian Canadian Henry Larsen on the schooner St. Roch in 1944, but he had learned much about the route and its challenges from his earlier eastbound trip that took him two years, and that of Amundsen who completed the first ever passage in 1906 after 3 years in the ice, and dozens of unsuccessful explorers over the previous 300 years. Since Larsen's passage, only another two dozen or so passages have ever been made by private vessels. This passage of the Kapitan Khlebnikov will enter the history books for several reasons, including the fact that it will be returning to government service in Russia after this voyage, so the chances of another icebreaker passage with passengers will be very small.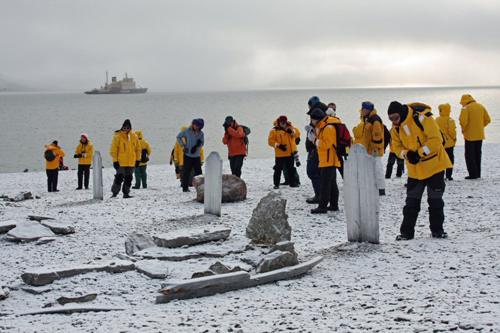 Kapitan Khlebnikov at Beechey Island
If you have an interest in participating in this expedition please contact Quark Expeditions at www.quarkexpeditions.com.
The basic subject goals for this special program follow our online descriptions of the individual topics, but each program is custom designed to meet the desires of the participants. The course is designed and taught by David Burch, PhD, director of Starpath School of Navigation, a Fellow of the Institute of Navigation and a Fellow of the Royal Institute of Navigation.
The full training package is a complimentary option to expedition participants, but its value to those who choose to participate is high. It includes full access to all six of our online courses, plus two weeks of extended classroom lessons and private tutoring underway. As with all of our underway training, we set up a full nav station with all data and communications options working for student's hands on participation.
Trips to the bridge and discussion with the ship's officers can also be expected. We will also present a special section on ice navigation that will help us appreciate the challenges at hand and prepare you for your own passage if that is on the horizon. We anticipate making regular marine weather observations along the voyage and making them available to US and Canadian weather services.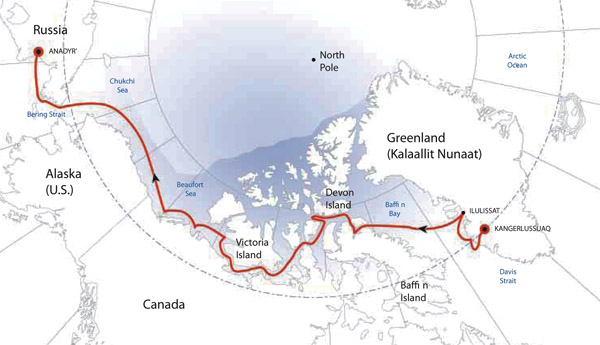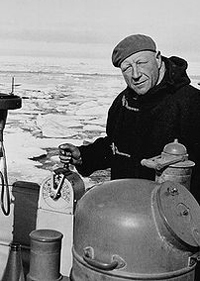 Henry Larsen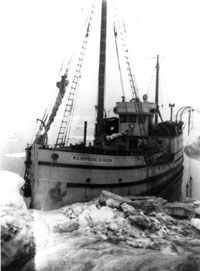 Larsen's ship, St. Roch
• An excellent one-book introduction to the historical quest for the NW Passage is Farley Mowat's Ordeal by Ice
There are numerous used copies online worldwide for just a few dollars.
• References on the diminishing arctic ice.