Marine Weather of Western Washington
by Kenneth E. Lilly, Jr.

Starpath Publications (1983), 150 pages, paperback, 8.5" x 11", many illustrations

$24.95 ...item# 1833
---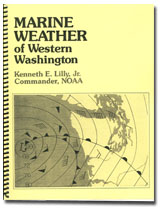 Marine Weather of Western Washington
The definitive resource for marine weather in the Pacific Northwest — the book's title is far too restrictive for its actual content. Weather patterns discussed apply from northern California, well up into British Columbia, it is just that there are a large number of actual examples from the Puget Sound and San Juan Islands area. All well written on a thorough yet non-technical level. This book includes real data and analysis that will affect how you interpret and apply marine weather information in the Northwest.

The book is written by a professional meteorologist and sea-going Commander in NOAA, now retired. Ken Lilly worked at the Forecast Office of the National Weather Service in Seattle, taught marine weather at several institutions (including Starpath), as well as being editor of An Introduction to Sea State Forecasting (NWS pub) and author of How to Use Radiofacsimile Weather Maps (Furuno, USA).

This book is also available as an elibra ebook for $9.95.

Please note: This book is specifically about marine weather, if you are looking for a more general book on weather of this region we recommend Cliff Mass's wonderful book The Weather of the Pacific Northwest.