Latest satellite clouds. Compare UTC above with time of image listed below it.
Latest weather map. Compare UTC above with valid map time listed below it.
Latest Atlantic Tropical Weather Discussion (MIATWDAT)
The following are live (i.e. latest) scatterometer winds over the eastern end of the voyage.
Click here to read about the The Tactical Use of Scatterometer Data
Latest ASCAT-A ascending

Latest ASCAT-B ascending


Latest ASCAT-A descending


Latest ASCAT-B descending

Latest WindSAT ascending (secondary data)

Latest WindSAT descending (secondary data)


Hi-res ASCAT from KNMI. This is not a live picture. Click here for latest



Latest ECMRF map, Miami side. Click the pic for 10 day forecasts.
They do not label Lat, but HI and Windward Passage beteen Cuba and Haiti is 20N; Gulf Coast is 30 N.


CLICK THE MAP BELOW TO SEE LATEST OF *ALL* OPC ATLANTIC MAPS

TAFB Marine Forecasts & Analyses (the main source of Atlantic tropical wx info)
You can view GFS winds with ugrib (PC only) or other options, or view them on line from passageweather.com. Click pic below.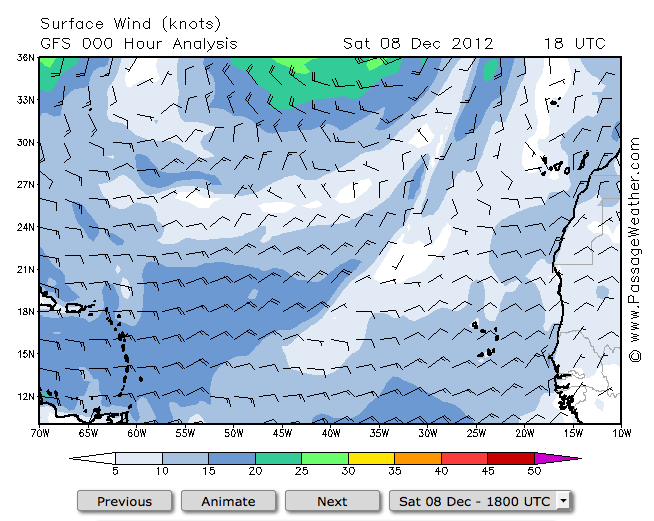 Best data for Climatic winds during the planned start of the voyage. Click the pic for more details.
Then click a location for wind rose on the right. Move the cursor along the route to see what the averages have been,
though this does not mean these are the winds they see. These are just the historic averages.

Angie Pendergrass OAR Northwest page
Unified Analysis (Africa to Miami, updated 00z, 06z, 12z, 18z)
ECMRF isobars 10-days: Miami Side Dakar Side
---
Tropical Atlantic Current notes...
click the image to go to currents section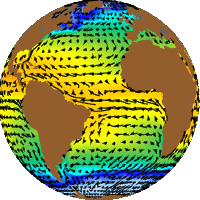 see Ocean Rowing Blog for notes on the trip