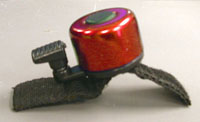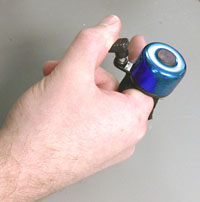 $6.95 each




Blue Bell
item#9050b




Red Bell
item#9050r
3 Bells* for $15
Shipping is $3.00 in the USA
$10.00 international

*Please enter colors desired in the Comments form, last step of the order
Diameter: 1.3 inches (35 mm)
Height: 1.0 inches (25 mm)
Weight: 0.6 ounces (17 grams)
Finger web width: 0.75 inches (19 mm)
Colors available: Red or Blue

Velcro seals adjust to all sizes for a comfortable fit.

Slight bend of index finger holds bell in place for easy ringing with the thumb, provides a loud clear ring, just like a bike bell (...it is a bike bell!)

Whistles and other sound devices are slow. They cannot be called into action when you need them suddenly on the trail. This bell works instantly and serves it's purpose effectively.

And if you get lonely out there on the trail you can ring to anyone going by to say hello. If no one is there, you can ring out into open space, which is a spiritual gesture with a certain satisfaction of its own.

Send a signal...

Online ordering and processing here donated by Starpath School of Navigation, a friend of skating, indoors, outdoors, racing and cruising. Or check these outlets
Want to stock these for your organization,
contact us?