Sea State Forecasting ebooks

Three classic texts on waves, swells, and sea state forcasting. Long out of print, but still unique and valuable resources.

These are ebooks for PC computers running Windows.

$9.00 ...item# 1751
---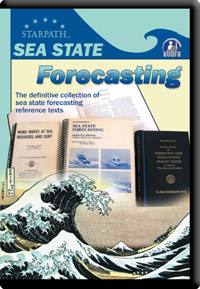 Sea State Forecasting
by Graham P. Britton, 224 page ebook view contents

Wind Waves at Sea Breakers and Surf
Publication 602, 210 page ebook view contents

Observing and Forecasting Ocean Waves
Publication 603, 298 page ebook view contents

Plus this bonus:
Bowditch on Sea State
Chapters 31-The Oceans, 32-Ocean Currents, and 33-Waves, Breakers, and Surf
from American Practical Navigator, 27 page ebook

If you ever wondered how big the seas get for a given wind speed, or how the heights are statistically distributed, or how fast the waves are moving, or how long does it take the seas to build, or the influence of water depth on sea state, or how big waves develop from little ones, or how waves turn into swells when the wind dies... or any other question at all about waves, swells, ripples, or surf, or the interaction between current and waves, then these books provide the definitive answers. Essentially all other references on waves ultimately refer back to these studies.
---
Save shipping costs! Order the download version (total charge $9) and get immediate access to these classic reference texts, no longer available in print, but still as useful as ever.
Step 1
Step 2

Order Download
Version Only

Download
free Elibra Reader
Step 3

Sea State Forecasting, 17.3 MB

Pub 602,
27.1 MB

Pub 603,
19.1 MB
+
Bowditch on Sea State, 6.3 MB