The Starpath ordering system will automatically compute three or four optional shipping methods based on your purchase weight and destination — unless you have ordered electronic download options alone, in which case that shipping page will be skipped since downloads have no shipping charges.

Standard
Standard shipping to a street address in most cases uses USPS. We will choose the most efficient possible shipping option available to us when standard shipping is selected. Most often it is Priority Mail.

Small order Priority Mail
If your total order to a US address is under 1 pound, then you will be also offered a Priority Mail option for a fixed fee of $5. If under 2 pounds, this option will be $8. Priority mail can be as fast as two days to out of state addresses, but three is not uncommon. Check the map below for Post Office predictions. You do receive a tracking number at shipment time. We generally ship the same business day we get the order if here before 11 am Seattle Time.

Estimated domestic Priority Mail delivery times. Click for larger image. Then click again to zoom in.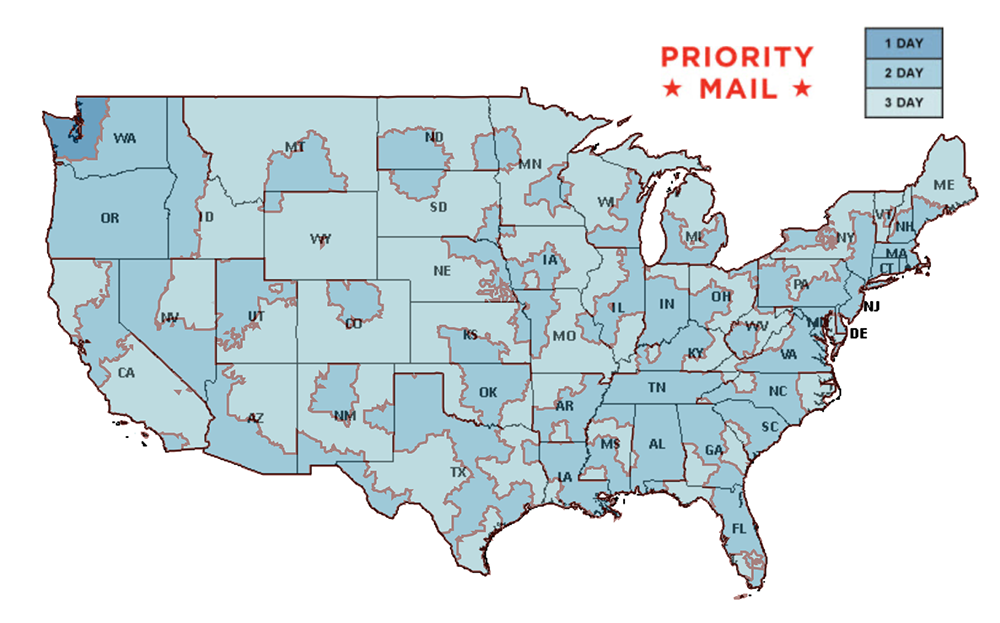 Expedited Shipping
2 day and Next Day Services are also available. The Courier used is selected based upon location of delivery. Please place your order on the phone if you really need something the next day.
Tracking numbers
You will receive a tracking number for all shipments sent to the email you provide. These are usually sent out at the end of the day on which the items were shipped. Please keep in mind that these records may not be in the shipper's system for tracking till past midnight on that date.
---
Shipping weights:
Shipping weights are listed once an item has been placed in the shopping list, and they are summed in the pro forma invoice which is visible before the order is placed. In some cases, shipping weights are chosen to compensate for insurance or a required box size, which affects the shipping charges.
Note on delivery times:
Normal "2-day" delivery time is two business days assuming we get the order by noon Pacific Coast time (ZD+8 winter, +7 summer). Likewise, Next day delivery must also be in by noon, but in principle in an emergency we can do next day until 2 PM. These are our goals, which we normally meet, but we cannot guarantee this. If delivery time is crucial, it is best to follow up your order with a call (800-955-8328 or 206-783-1414) to confirm that we have the order on time and when it will be shipped. In short, without personal contact and confirmation, "next-day" could be two-day, and "two-day" could be three-day. These are "business days" — standard two-day shipped Monday would arrive Wednesday; but shipped Thursday would arrive Monday, in which standard Priority Mail would be faster in many cases..
Expedited Saturday deliveries are possible for an extra $10 charge in some cases, which must be arranged by telephone.