Tide Prints show the flow patterns and how they evolve throughout the current cycle. There is one print for every 3 hours throughout the cycle. They are indexed to the tide height in Seattle.
View Sample

Current Charts show the values of the currents at each reference station. There is one chart for every hour throughout the cycle. They are indexed to the tidal current at Admiralty Inlet.
View Sample

Comparing Tide Prints and Current Charts shows the locations of eddies and bands of current, and how these bands and eddies move and interact as the current cycle evolves.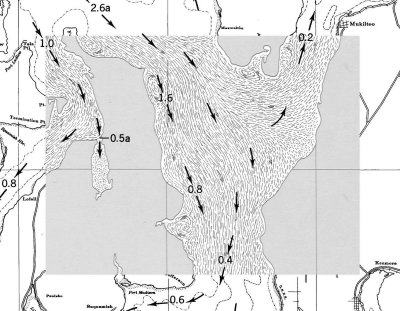 • These are both perpetual publications, good for any year.
• Tide data at Seattle and current data at Admiralty Inlet (off Bush Pt) and at Tacoma Narrows (north end), are needed to assign specific times to each page of these charts and prints.
The tide and current data needed to use this publication can be found at
Admiralty Inlet Currents
Tacoma Narrows Currents
Seattle Tides
All reference tables needed for 2017, 2018, and 2019 can be downloaded here: Tide and Current Data 2017 to 2019.pdf
Purchase a printed copy of the reference tables for the current year for $3.99.
---
Use of current charts underway