|| Use your BACK button to return ||
---
StarPilot Review Sights function
As a rule it is a good idea to review the sights stored in StarPilot before executing a fix. After seeing what is there you can delete, repeat, or add sights. If all is OK, just carry on with the Celestial Fix function.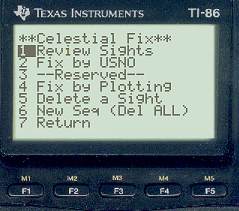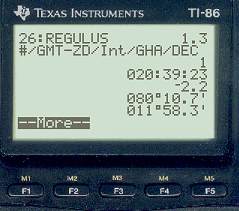 The display shows the body # and name and brightness magnitude, and on the next line the sight #, sight time, intercept (a-value), and then the GHA and Dec that StarPilot computed for the body.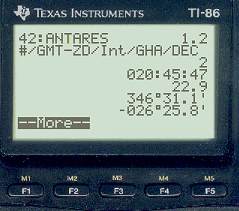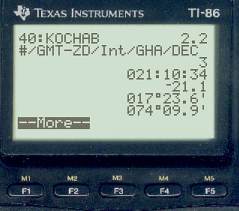 The next [Enter] will take you back to the first screen shown above. These are the sights that were entered in the Sight Reduction example and also in the Fix by USNO example, and in the Fix by Plot example.
---
|| Use your BACK button to return ||